Sell your home without an agent
and save thousands.
Listed Elsewhere?
Check your exposure score
Did you already list your home yourself on other sites? Let's see how well you did!
FSBO Marketing for $27.99 a month
Nightly submissions to our syndicated websites, Google, Yahoo, oodle, Bing, Zillow, Trulia, RealEstate.com, and manual submission on our social media networks with sponsored posts of your property.
Beautiful property details page to share on social media and online.
Unlimited Photos, Weekly Reports, Update Anytime, Cancel Anytime, Never a hidden fee, No Contracts!
We do not charge any fees other than the monthly $27.99. When your home is sold, simply mark it as sold and will we remove it from the syndicated websites.
Market Your 'For Sale by Owner' Property
---
Receive more traffic and qualified buyers in less time.
We are an FSBO marketing company, and we are ready to help you.
Our mission is to provide an agent like online marketing experience, for pennies on the dollar.
Spending numerous hours uploading your property information onto each individual listing site is exhausting and time consuming, and frankly you have better things to do.
Selling your home on your own should be easy and efficient. We know what works and what doesn't work because we have placed more than 3800 homes in front of potential buyers with great success.
For $27.99/month, you can upload your property details onto our site. We will give you a single account where you will be able to create and manage your listing. From there you can monitor your the progress of your property. When you make a change... we will update multiple real estate websites for you! It's as easy as that! You monitor your listing in one place, we do the rest so that your home is visible and in front of your maximum potential buyers.
In a study by Northwestern University, 'The Relative Performance of Real Estate Marketing Platforms', they show that an FSBO property typically only takes 19 days longer than an agent listed property. How many of thousands of dollars are worth an extra 19 days to you?
You don't need to give the agents your money, you earned it, you can take on a couple tasks to save tens of thousands of dollars.
Take control of your property
Sample Listing (click to view)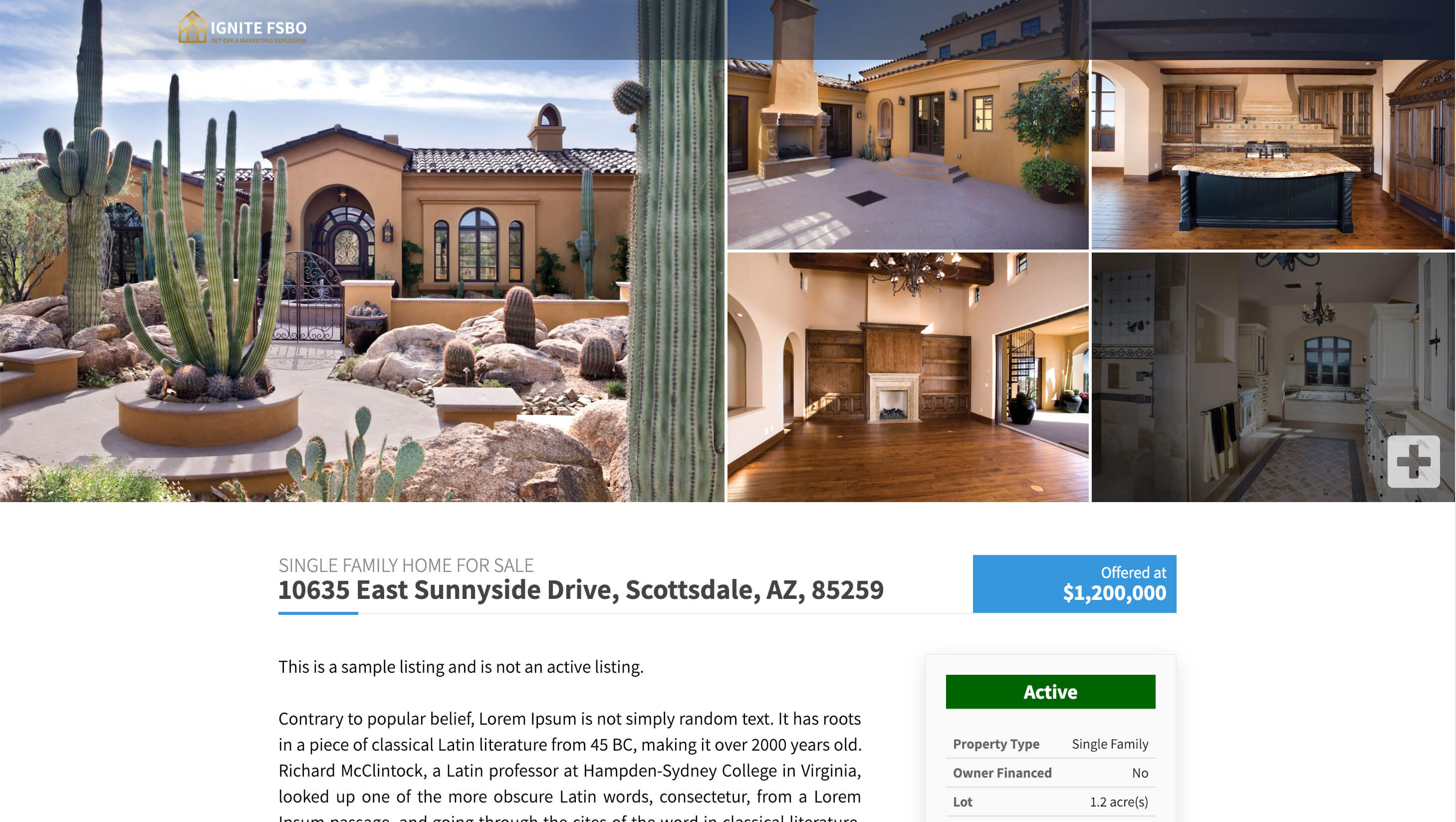 Backend Control Panel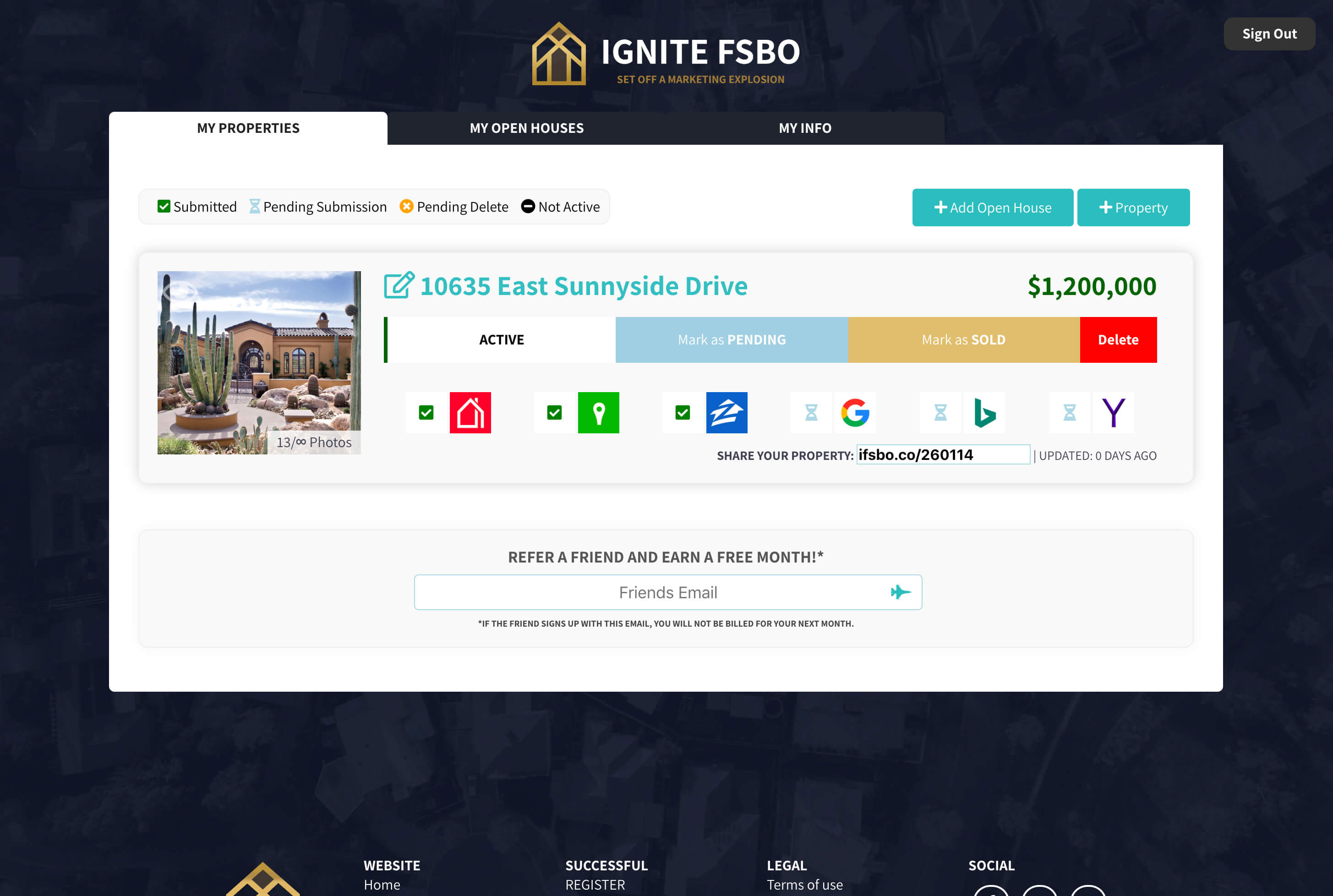 What do people think of us?
Using ignitefsbo.com allowed us to focus on getting the right people into our home and allowed us to sell our house much quicker than we thought it would.  This site is easy and efficient to use, all we had to do is upload the information once and then the website went to work on our behalf to get it to popular real estate sites.  We were very happy with our experience. Thank you!

This was an awesome experience. We had no idea what we were getting into with selling our house on our own and ignitefsbo.com is the tool we needed to get our house out and into the market.  Thank you!

My husband really wanted to sell our house on our own and I was really skeptical, I thought I would have to do all the admin work. Fortunately we came across ignitefsbo.com and they did all the admin and posting for us!!  We would definitely use this service again.

I had heard so many horror stories of bad agents that steered clients wrong or were terrible to communicate with. So I decided to sell my home on my own. I am so glad I did. Ignitefsbo.com was so helpful!

Your site really streamlined this process for us. We will absolutely be recommending you to anyone looking to sell their home by owner!

This was a very smooth process, and we aren't all that computer savvy. Many thanks.

Our home is SOLD! We had so many interested buyers who said they saw our home on this or that website. Thank you for providing such a helpful service.

We were nervous to sell by owner, but your site was very helpful. And we saved so much money by not hiring an agent.
for sale by owner benefits
for sale by owner tips
for sale by owner calculator